Enterprise resource planning (ERP)
Enterprise Resource Planning (ERP) is the business management system of an organization, powered by a software application to incorporate all facets of the business, and automate and facilitate the flow of data between critical back-office functions, ranging from financing, distribution, accounting, inventory management, sales, marketing, planning, human resources, manufacturing, and other operating units.
A structured ERP system will function as one-stop integrated solution, equipped with the ability to process information/transaction from all departments of the organization to track–in real-time–business operations and provide timely, accurate information to business managers. The system facilitates that each employee of company has the information they need to do their job without the need to export data from multiple systems or do extra computations.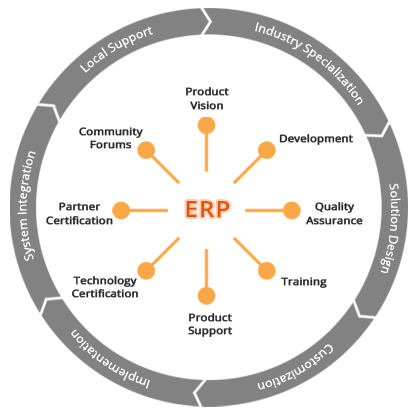 With evolution of time ERP software solutions have emerged as an integrated solution to capture all business activities, the primary functional areas of ERP software includes:
Accounting and Finance
Procurement
Human Resources
Supply Chain Management
Manufacturing
Service Management
Marketing and Sales
Client Relationship Management
Inventory Control
The implementation of cutting-edge ERP solution will immensely benefit the organization of any size. The facility to instantly run status reports will provide companies, invaluable information on business operations strengthening decision making capability to stay ahead in changing business environments. Companies will be able to achieve high profit levels by implementing appropriate ERP solution. In context of emerging business environment, an advanced, modern ERP system is required as a key to business success. If your firm has difficulty running reports in real-time, if your employees waste time re-entering the same data into multiple systems, or key business metrics are calculated by hand on spreadsheets, your firm need a modern ERP business package.