Staff Augmentation
Vagus Technologies years of industry presence and enriched experience enable it to provide appropriate staffing solutions to our clients.
Our Staff Augmentation procedure includes:
Getting the requirement from the client
Setting up a conference call between the Technical recruiting team of Vagus and the hiring manager in the client place.
Screening and shortlisting the right candidates from local and national talent pool.
Facilitate telephone or onsite interviews with our clients.
Assisting the transition of candidates into their new roles in the client place.
Assisting the clients/candidates in immigration (If necessary)
We assist our clients IT staffing requirements on Direct-Hire, Contract and Contract-to-hire basis for their crucial projects on short/long term and full time assignments. The contract-to-hire facility offers flexibility of trying our resources and commit hiring according to the requirement.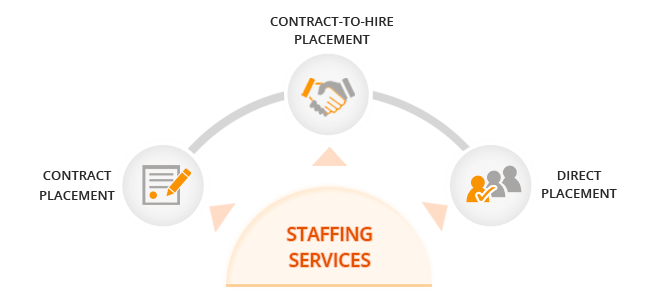 Advantages of our Staff Augmentation
Improving operational efficiency
Cost effective with minimized expenses
Stress free hiring process
Increasing your productivity within the budget
Providing well-qualified resources at minimal cost and minimal time
Short-term/Long-term contracts
Flexibility in scaling up/down resources
Improving operational efficiency
Cost effective with minimized expenses
Stress free hiring process
Increasing your productivity within the budget
Providing well-qualified resources at minimal cost and minimal time
Short-term/Long-term contracts
Flexibility in scaling up/down resources